Our address for sending parcels:
Thomas Krüger, WA.Com
Timmerloh 8
D-24787 Fockbek
Germany
 
Please send the bottles directly to us.
Registered User please add the BidderID inside the parcel.
Our sellers fee is 10% .

Items Banned from auctions(Insert link Banned/Rejected Items)

Order safety box(es) for 6, 12 or 16 bottles to ship your bottles to WhiskyAuction.Com (inside Europe only, except Switzerland), see below:

Fee:  box for 6 bottles inside Germany 5 Euro and inside the EU 10 Euro

Fee:  box for 12bottles inside Germany 6 Euro and inside the EU 11 Euro

Fee:  box for 16 bottles inside Germany 7 Euro and inside the EU 12 Euro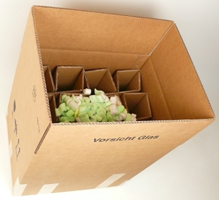 Safety Box for 12 bottles.
Please leave the cardboard inlets inside and
separate all bottles from each other.
Questions?
Additional questions can be sent by email to Service@WhiskyAuction.Com